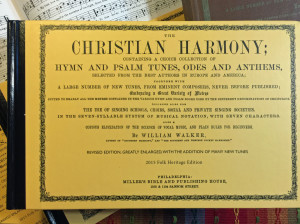 Hey Christian Harmony folks. Lots of news!! Sorry to put so much info into one email, but the world's spinning a little too fast for me these days.
          The new book is here and we have been shipping online orders from the web site almost every day for the last week. They look great, sing great and feel good when you hold them in your hand. Maggie and I are still sore from unloading.  I have sent off review copies to several folks who might give a hand in letting the world know that we are not yet ready to hold a funeral service for the venerable old 1873 Christian Harmony.
           With all the press attention, we also have been getting a bit of buzz that there may be a number of newcomers at Marshall. I know we always work at it but let's all make a special effort to make them feel welcome and not too confused about our arcane practice of loudly singing archaic music. Maybe some of them will come back!
          Don, Joe, June, liz, Dan and Diane, (who am I leaving out?) thank you for your commitment to having the Walker book as all or  part of your singings. I think that makes six events (counting both Etowah singings) that are committed  to using the original book.
           Another bit of great news, Liz Smathers Shaw and June Smathers Jolley are working on our first all-day Walker Book singing school in many a year, complete with panel discussions, history and old singing books on display. Here's what Liz has to say about the upcoming Quay Smathers Memorial Singing School:
"Plans for the singing school are coming along nicely! The location will be the Shook Smathers house in Clyde and the event is being sponsored by the Haywood County Historical Society! Our date is April 9 which is a Saturday, and we hope to work most of the day in training up some new singers to sing in the old-style. . .  The space for the singing school is fabulous – a wonderful historic home with room for an exhibit of old photographs and old books."
          Lot of irons in the fire at this point  …
"Awake and sing the song …. "
Zack